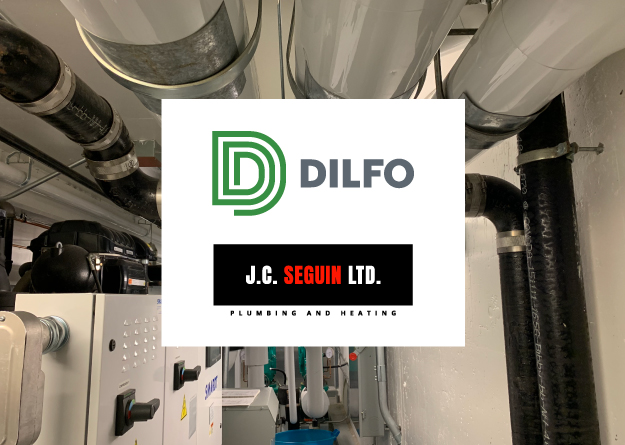 05 Apr

DILFO ACQUIRES J.C. SEGUIN PLUMBING AND HEATING LTD.

A Win-Win for the Companies and their Customers
OTTAWA, Ontario, April 5, 2019 – DILFO, one of Eastern Ontario's largest mechanical contractors, is proud to announce their new Plumbing & Heating division, with the acquisition of J.C. Seguin Plumbing and Heating. As of April 5th, the company will now be offering the supply, installation, and full-service of high-quality mechanical systems, including plumbing, piping, and HVAC.

Both DILFO and J.C. Seguin are long-standing businesses, each with over 35 years' experience, and reputations for excellence, making the acquisition a natural evolution that will benefit customers with added-value service.

"We're very excited about this," states Danny Dillon, President of DILFO. "Expanding our services with J.C. Seguin's expertise in plumbing and piping is a perfect fit. This acquisition will allow us to be a full-service mechanical contractor, providing our customers with an even better and more complete service experience."

Another great aspect of this acquisition is that everyone at J.C. Seguin keeps their job as all employees will be joining the DILFO team and continue to be led by Anik O'Dwyer, the current Executive Director of J.C. Seguin.

"Joining DILFO makes sense for us too," says Ms. O'Dwyer who will take on the role of V.P. Operations for DILFO's new Plumbing & Heating division. "Known for our full range of plumbing and HVAC piping services within the same construction sectors as DILFO, including institutional, commercial, and industrial (ICI), customers will now benefit from a complete end-to-end service and seamless experience."

It's clear that both companies pride themselves on quality workmanship, leading innovation, and great customer service, making the acquisition a win for all involved, including contractors and developers that already benefit from DILFO's partnership approach on projects.
ABOUT DILFO
DILFO is a second generation, family-owned business with more than 35 years of experience in commercial and industrial construction and maintenance, as well as HVAC services. The company is known as one of Eastern Ontario's largest mechanical contractors and manufacturers of sheet metal products, including ductwork and fittings.
ABOUT J.C. SEGUIN
J.C. Seguin has been in business since 1921, specializing in a full range of services, from new construction and retrofits, to specialty piping, boiler and chiller installation and replacements, tenant fit-ups, hi-rise apartment and condominiums, design-build/design assist and LEED projects.
CONTACT
For more information, please contact Danny Dillon at Danny.Dillon@DILFO.com