06 Oct

DILFO Mechanical Recognized As a Best Place to Work Ottawa 2023

Creating a positive workplace environment that support employees with professional growth while also being excited to come to work every day is a challenging task that DILFO strives for – and achieves! DILFO has been once again recognized as a top ten Best Places to Work Ottawa employer.

The Ottawa Business Journal released the 2023 Best Places to Work recipients this past month; recipients are determined via a third party audit performed by the U.S. based Workforce Research group. Their audit is an intense review of the benefits and workplace culture efforts DILFO offers as well as data-analysis of an employee survey.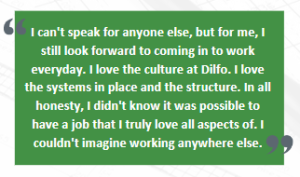 Over 50% of our employees answered the experience survey, and of those responses over 60% were from our team on sites and in the fabrication shops. In 2023, DILFO had an increase in total filled out surveys because we have grown since last year! Filling out these surveys takes time and effort, and every single response matters in understanding how our team feels DILFO is succeeding, and how DILFO can work to improve.
DILFO stood out above the crowd in the areas of Work-Life Balance, Job Satisfaction, Communication and Workplace Culture, as well as in Organization Leadership. In each of these categories, DILFO employees rated a number of unique measurement statements affirmatively, leaving DILFO with agreement statistics well over 90%, and as high as total agreement measured at 96%, well above other workplaces in Ottawa!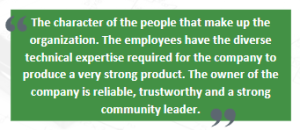 This overall strong affirmation that DILFO has created a strong team and environment was reinforced with written in responses to a prompt asking what makes DILFO a great place to work. Many members of our team wrote passionate answers about being able to work alongside team members who all care about their work, that they can freely ask questions and learn, that DILFO supports extra education to upskill, and always makes sure that the tools needed for the job are there. 
DILFO is extremely proud to make this benchmark achievement for a second year in a row – most especially because it is an achievement that is generated by employee feedback. Thank you to everyone in our team who lives DILFO Values – when everyone lives these values, we all create a workplace we can take pride in.